In order to test and further research sensor cloud systems in industry, the Fraunhofer IPT and seven other industrial partners are developing a modularly expandable sensor cloud system for existing machines in the "5GSensPRO" project. The system includes sensor technology, process control, evaluation, visualization software, interfaces and communication protocols to monitor and adaptively control highly dynamic production processes. In future, the system will be integrated and tested in the network of the 5G Industry Campus Europe in the Fraunhofer IPT's machine hall, thus creating a flexible, completely wireless production environment that adds various new functions to tools and production machines.
5G-SMART aims to demonstrate, evaluate and validate 5G systems for new manufacturing application in 5G-enabled industry field trials.  Furthermore, the project aims to identify novel use cases, develop new 5G technology features and identify viable operator business models to drive future 5G standards and technology adaption in manufacturing ecosystem.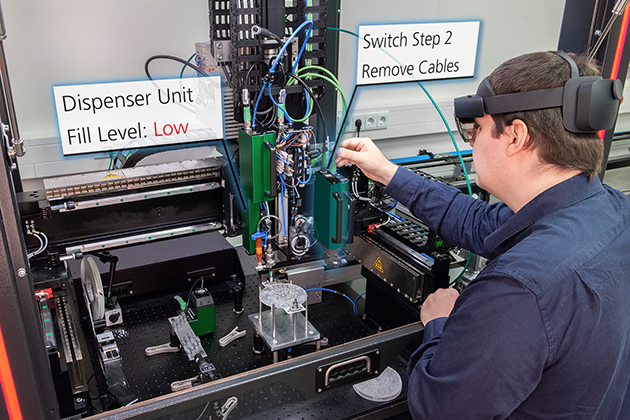 Augmented 5G
The project Augmented5G aims for connecting remote support, digital assembly and workflow-based process support with the capabilities of 5G. These use-cases are created in Augmented Reality to provide a better immersion for their tasks and allow interactivity in the process for the users. With the realiability and high bandwidth of the communication via 5G, a better quality of the AR content and interactivity with the machine is enabled.